Select a course
Your previous selection: Regular
Our general courses provide the best means of developing the student's skills in French in the four core areas: speaking, reading comprehension, writing and listening. These courses also offer the opportunity to learn French grammar, sentence building and vocabulary in a 100 % French relaxed and friendly and relaxed environment! 

Intensity: 2.5 to 3 hours / class (depending on number of participants), once/week
Duration: 9 weeks
Price: $320
Level : All levels. From beginners (A1) to Advanced (B2) 
Material required : Cosmoplite textbook and exercise book.
Only 1 course available for this selection
2020-21 Summer: A205 Wednesday
Product Code: 2020.21.n5.a205we 2020-21

Age Group
Adult
Type
Regular
Session
2020-21 - Summer
Pace
Standard
Level
A205

Schedules
07 Jul 2021 to 25 Aug 2021

Wednesday 5:30pm ▸ 8:30pm
A valid membership is required in order to enroll in this course
Objectives
Upon completion of the A205 level, you should be able to:
Understand headlines
Explain your preference for a TV program
Explain your likes and dislikes for movies
Give your opinion about a movie
Talk about your volunteering experience
Make a touristic reservation
Understand an article about a human interest story
Understand the description and the reviews of a movie
Understand the description of a touristic program
Contribute to a blog
Prepare a description of a touristic trip
Prerequisite: A204 or Placement test.
Required Course Material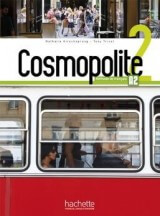 Cosmopolite 2
Cosmopolite is a modern and innovative French language method for adults. With a textbook and an exercise book for homework, it presents a very structured, practical and comprehensive approach.

Cosmopolite 2 is used for levels A203 to B102
$282.00

CAD
Approx $233.38
USD
Early-bird: General courses: $38 off
Normally: $320