Select a course
Your previous selection: Regular
Our general courses provide the best means of developing the student's skills in French in the four core areas: speaking, reading comprehension, writing and listening. These courses also offer the opportunity to learn French grammar, sentence building and vocabulary in a 100 % French relaxed and friendly and relaxed environment! 

Intensity: 2.5 to 3 hours / class (depending on number of participants), once/week
Duration: 9 weeks
Price: $320
Level : All levels. From beginners (A1) to Advanced (B2) 
Material required : Cosmoplite textbook and exercise book.
Only 1 course available for this selection
2021-22 Winter1: B205 Saturday
Product Code: 2021.22.n2.b205sa 2021-22

Age Group
Adult
Type
Regular
Session
2021-22 - Winter 1
Pace
Standard
Level
B205

Schedules
20 Nov 2021 to 29 Jan 2022

Saturday 9:30am ▸ 12:30pm
Note: The length of the course will be 27.5h with 7 students or more and 22,5 h if less than 7 students register.
A valid membership is required in order to enroll in this course
Objectives
A la fin du niveau B205, vous serez capable de :
Commenter la place du travail dans la vie
Faire des hypothèses
Faire la promotion d'une entreprise
Préparer un entretien d'embauche
Répondre à une offre d'emploi
Analyser l'adéquation entre un profil de poste donné et le profil d'un candidat
Donner votre avis sur la répartition du temps de travail en France et dans d'autres pays
Débattre des conditions de bien-être au travail
Required Course Material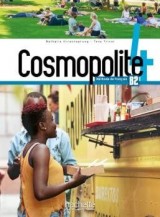 Cosmopolite 4
Cosmopolite is a modern and innovative French language method for adults. With a textbook and an exercise book for homework, it presents a very structured, practical and comprehensive approach.

Cosmopolite 4 is used for levels B201 to B207
$282.00

CAD
Approx $228.27
USD
Early-bird: General courses: $38 off
Normally: $320