Select a course
Your previous selection: General
Our standard courses for kids and teenagers provide our younger learners with the opportunity to learn French through stimulating programs.

Only 1 course available for this selection
2021-22 Winter 2: French for Teens 101 Friday
Product Code: 2021.22.n3.T101fr 2021-22

| | |
| --- | --- |
| Age Group | Teens |
| Type | General |
| Session | 2021-22 - Winter 2 |
| Pace | Standard |
| Level | T101 (beginners) |
| Schedules | 11 Feb 2022 to 08 Apr 2022 |
A valid membership is required in order to enroll in this course
Objectives
​In this course, students will discover the French language and culture and practise their communication skills through a range of stimulating activities. Common Grammar difficulties will be highlighted. Throughout the year, students will use  the book and exercise book Adomania 1 and learn how to: 
- Introduce themselves,  
- Ask basic questions,  
- Talk about likes and dislikes,
-  Describe someone's appearance (physical appearance), 
-  Talk about sports, family and friends,  
- Talk about future holidays (futur proche)...
Please note this information is provided as a reference.
The course content may be modified at the discretion of the teacher, depending on the learning pace and the level of the class.
Required Course Material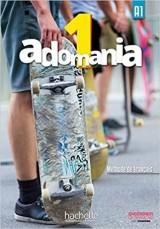 Adomania 1
Jeu de livre de l'élève et cahier Adomania 1.
$250.00

CAD
Approx $200.00
USD
Early-Bird: Teens: $35 off
Normally: $285