Night Movie: Soirée
Pop-corn
Let's bring back the tradition of the movies at the Alliance Française : the Soirées Pop-corn which (you would have guessed) have free pop-corn !
Let's meet on the second Thursday of the month at the Alliance, to watch French-speaking films together, with English subtitles.

Free event and popcorn. Subject to reservation and limited places.
Our Program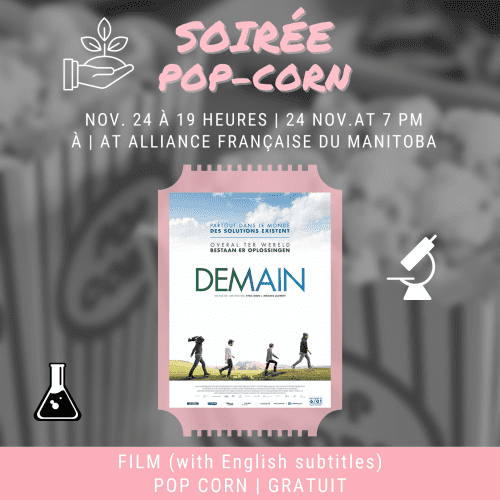 ---
Soirée Pop-Corn | DEMAIN
La fête des sciences come back at the Alliance Française du Manitoba with a special movie night evening! We will screen Demain! This movie should be watched more than once :)

What are the Soirées Pop-Corn ? The projection of a French-speaking movie with English subtitles, the second Thursday of the month ! It's free and we give the pop-corn ! So what are you waiting to register ?

Demain

What if showing solutions, telling a story that makes you feel good, was the best way to solve the ecological, economic, and social crises that our countries are going through? Following the publication of a study that announces the possible disappearance of a part of humanity by 2100, Cyril Dion and Mélanie Laurent left with a team of four people to investigate in ten countries to understand what could cause this catastrophe and especially how to avoid it. During their journey, they met the pioneers reinventing agriculture, energy, the economy, democracy, and education. By putting together these positive and concrete initiatives that are already working, they begin to see what tomorrow's world could be...

Date : Thursday Novemver 24th, 2022
Time : From 7pm
Where : 934 Corydon avenue, MB, R3M 0Y5
Details: FREE, registration recommended ; SUBTITLED in English