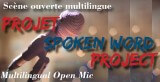 Spoken Word #2 - Season 2019-2020
- | Maison Gabrielle Roy, 375 Rue Deschambault, Winnipeg

In partnership with la Maison Gabrielle-Roy, come and join us for the second Spoken Word night of the season 2019-2020. Alliance Française du Manitoba's SPOKEN WORD PROJECT series is a regular event offering an open mic to all: francophones, anglophones, franglophones, whatever floats your boat! Come share your words in French and/or English and/or any language you wish to use, and help us build a strong community of poets. Bring your voice and your instruments, we'll be there to listen. It is a safe space to express yourself !