Recurring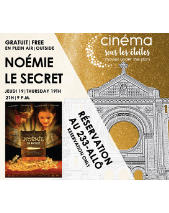 NOÉMIE LE SECRET
- | Cathedrale of Saint-Boniface

🌜Cinema under the stars!🌛

JOIN US EVERY THURSDAY OUTSIDE, AT THE CATHEDRAL OF SAINT-BONIFACE


NOÉMIE LE SECRET by Frédérik D'Amours


🔈Subtitled in English

Synopsis:
Noémie, seven years old soon to be eight, spends a lot of time with her neighbor, Madame Lumbago, since her parents are very busy because of their work. Monsieur Émile, Madame Lumbago's late husband, had once told her about a treasure hidden in his apartment, and since then, the little girl peels every root to solve this famous mystery.

🆓FREE FILM🆓
Only by reservation with 233-ALLÔ
☎️204-233-2556 | 1-800-665-4443
📧233allo@sfm.mb.ca Learn more…
SOIREES POP-CORN
- | Online

🍿 Second movie, Second vibe. Always free! 🍿

Watch the film ′′ RUN ′′ directed by Philippe Lacôte.
It's a Franco-Ivorian drama film nominated at the Cannes Film Festival 2014 in the section Un Certain Regard.

Synopsis:
Run has taken off, after killing his country's Prime Minister. His life flashes before his eyes: his childhood with Master Tourou, greedy Gladys and his militia past. None of these lives were his choice, rather, he stumbled into them as he fled the one before

👉 Click here: https://bit.ly/3w1mLHj 👈
🔈 English subtitles available Learn more…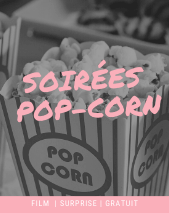 SOIREES POP-CORN
- | Online

🍿 Pop-corn party! 🍿

We offer you the film ′′ Barbara ′′ by Mathieu Amalric, nominated in the category ′′ Un certain regard ′′ at the Cannes Film Festival in 2017.
〰 A beautiful abyss mixing archives, fiction images and songs that make singer Barbara reborn. 〰

Synopsis:
An actress will play Barbara, filming will start soon. She works on her character, the voice, the songs, the scores, the gestures, the knitting, the scenes to learn, it goes, it advances, it grows, it even invades her. The director also works, through his encounters, through archives, music, he lets himself be overwhelmed, invaded like her, by her.

👉 Click here: https://bit.ly/3w1mLHj 👈
🔈 English subtitles available Learn more…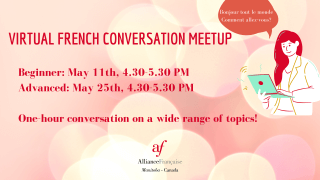 MEETUP FRENCH CONVERSATION ADVANCED
- | Onligne

Do you want to practice your French speaking skills?

Our popular French Conversation Meetup event is a great opportunity to practice your speaking skills and expand your social network.
It will take place on Tuesday, May 25th,2021 for the advanced levels (B2-C1)
Hurry up to register because the number of spots is limited. Polish your French with us! Learn more…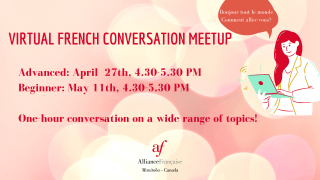 MEETUP French Conversation Beginners
- | Online via Zoom

Do you want to practice your French speaking skills?

Our popular French Conversation Meetup event is a great opportunity to practice your speaking skills and expand your social network.
It will take place on Tuesday, May 11th for the beginners (A2-B2).
Hurry up to register because the number of spots is limited.
Polish your French with us!

RSVP by May 11th, 2021 before 12PM Learn more…
MEETUP French Conversation
- | online via Zoom

Do you want to practice your French speaking skills?

Our popular French Conversation Meetup event is a great opportunity to practice your speaking skills and expand your social network.
It will take place on Tuesday, April 27th for the advanced levels (B2-C1) and on Tuesday, May 11th for the beginners (A2-B2).
Hurry up to register because the number of spots is limited. Polish your French with us!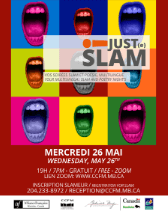 JUST(e) SLAM!
| online via Zoom

The Alliance française du Manitoba, CCFM and La Maison Gabrielle-Roy unite to offer you a FREE MONTHLY SLAM event: JUST(e) SLAM!

This is a series of evenings dedicated to slam, declamations, performances, whisper, emotions, laughter, and oral and living poetry, offering a stage and open mic to all: francophones, anglophones, franglophones...!

Come and share your words in French and/or English and/or in any other language, and help build a community of poets. Our events are open to all (kids, teenagers, adults). Learn more…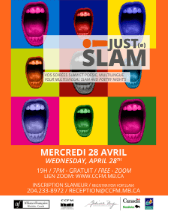 JUST(e) SLAM!
| online via Zoom

The Alliance française du Manitoba, CCFM and La Maison Gabrielle-Roy unite to offer you a FREE MONTHLY SLAM event: JUST(e) SLAM!

This is a series of evenings dedicated to slam, declamations, performances, whisper, emotions, laughter, and oral and living poetry, offering a stage and open mic to all: francophones, anglophones, franglophones...!

Come and share your words in French and/or English and/or in any other language, and help build a community of poets. Our events are open to all (kids, teenagers, adults). Learn more…
JUST(e) SLAM!
| online via Zoom

Don't miss our free monthly event JUST(e) SLAM on March 31st! A talented poet Sonia Cotten will be our guest of honour!

Just(e) Slam is a series of evenings dedicated to slam, declamations, performances, whisper, emotions, laughter, and oral and living poetry, offering a stage and open mic to all: francophones, anglophones, franglophones...!

Come and share your words in French and/or English and/or in any other language, and help build a community of poets. Our events are open to all (kids, teenagers, adults). Learn more…