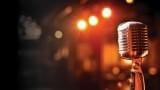 SPOKEN WORD #2 - season 2018-2019
| Maison Gabrielle-Roy

Come share your words in any language you wish to use, and help us build a strong community of poets.

Bring your voice and your instruments, we'll be there to listen.

In 2018-2019, the host is Amber O'Reilly, a multilingual spoken word artist and poet. Born under Yellowknife's midnight sun, she has lived in Winnipeg since 2013. Amber has performed at Northwords NWT, Speaking Crow, Winnipeg Poetry Slam, Winnipeg Fringe Festival, Thin Air and the Canadian Festival of Spoken Word and published in the Winnipeg Free Press, L'Aquilon and Oratorealis. She writes theatre reviews for La Liberté and is a board member of the Association des auteur-e-s du Manitoba français and Thin Air, Winnipeg International Writers Festival.

This second edition of the 18/19 Spoken Word will take place at the Maison Gabrielle-Roy, on 375 Rue Deschambault.
Entrance is free and open to all.