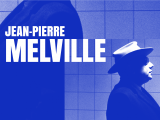 Melville Retrospective
| Alliance française du Manitoba/Winnipeg Cinémathèque

Jean-Pierre Melville, one of the greatest French filmmaker, was born 101 years ago. As an homage, the Alliance Française du Manitoba and the Winnipeg Cinemathèque will screen a retrospective of a dozen of his best movies. Many of his artworks have gone into the Hall of Fame of cinema: Le Samouraï, Army of Shadows, Le Cercle Rouge. Melville has done 13 movies in total, filled with gangsters and dark politicians. He has always been associated with the neo-noir movement, but he explored many other genres, like surrealism. His unique style and his huge artwork is to be rediscovered through this retrospective!

This retrospective will take place from January 10th to February 20th, in partnership with Winnipeg Cinémathèque. More details coming soon.