Culturetheque
Discover the whole digital contemporary French offer on Culturethèque, the new e-library of the Francophone culture in Canada.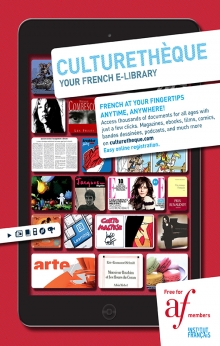 WHAT IS CULTURETHÈQUE?
Culturethèque, your new e-library, offers you thousands of documents with a 24/7 access. From any computer, tablet or Smartphone, access your favorite magazines as they hit the newsstands, view concerts and shows, listen to lectures, introduce children to French language, read eBooks and comics, and enhance your language skills with materials tailored to your needs.
HOW TO USE CULTURETHÈQUE?
All members and students of Alliance française du Manitoba have a free access to Culturethèque.
If you are a member or student:
Register online to access the biggest French e-library until the end of your membership on www.culturetheque.com

If you are not a member or student:
All curious have a 3 week free access to Culturethèque. To extend this access, there is nothing easier: join us for a course session or become a member of Alliance Française du Manitoba to enjoy a lot more benefits.