Tournois de pétanque
Date: 25 Aug 2022, 5:00pm - 9:00pm (GMT-06:00) Central Time (US & Canada)

Participez au dernier jeudi pétanque de l'été 2022, en vous inscrivant au tournois de pétanque ! En équipe ou en individuel, vous pouvez vous inscrire jusqu'au 18 août. Places limitées.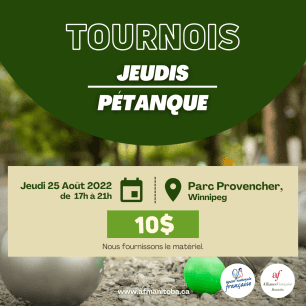 Activités
Le tournois se déroulera de 17h à 21h avec des matchs de 20 minutes maximum.
Parallèlement, Ker Breizh et ses fameuses crêpes bretonnes seront présentes.
Musique d'ambiance.
Les enfants pourront jouer dans la pelouse avec le matériel fournis.
Évènement
Le 25 août 2022, de 17h à 21h au Parc Provencher (Winnipeg).
Pour débutants et amateurs de pétanque.
Prix
10$ par personne.
30$ pour une équipe de trois personnes.
Chaque billet inclus une crêpe.
Take part in the last petanque Thursday of summer 2022 by registering for the petanque tournament! In teams of three or in individual, you can register until August 18. Limited places.
Activities
The tournament will take place from 5 pm to 9 pm with matches lasting a maximum of 20 minutes.
At the same time, Ker Breizh and its famous Breton pancakes will be present.
Background music.
Children can play in the lawn with the equipment provided.
Event
August 25, 2022, from 5 pm to 9 pm at Parc Provencher (Winnipeg).
For beginners and petanque enthusiasts.
Price
$10 per person
$30 for a team of three people.
Each ticket includes a pancake.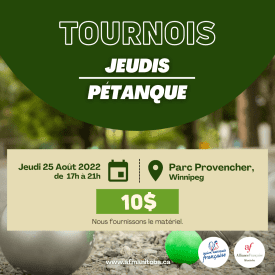 Have an Account? Click here to Login

You must RSVP by 18 Aug 2022 11:45pm
Please indicate your intention to attend this event below: