Learn French
Tests & Exams
Events
Library
About Us & Contact
Find a course
What's on at the Alliance Française: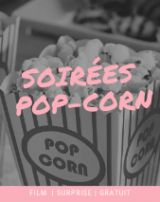 SOIREES POP-CORN
- | Online

🍿 Second movie, Second vibe. Always free! 🍿

Watch the film ′′ RUN ′′ directed by Philippe Lacôte.
It's a Franco-Ivorian drama film nominated at the Cannes Film Festival 2014 in the section Un Certain Regard.

Synopsis:
Run has taken off, after killing his country's Prime Minister. His life flashes before his eyes: his childhood with Master Tourou, greedy Gladys and his militia past. None of these lives were his choice, rather, he stumbled into them as he fled the one before

👉 Click here: https://bit.ly/3w1mLHj 👈
🔈 English subtitles available Learn more…
View all our events!