Learn French
Tests & Exams
Events
Library
About Us & Contact
Find a course
What's on at the Alliance Française: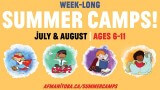 Blues Blanc Rouge 2019
| Maison des Artistes Visuels Francophones

For the fourth year in a row, the French community and the Alliance française du Manitoba wish all Winnipeggers to celebrate France's National Day, also known as Bastille Day.
Blues Blanc Rouge is the ideal way to mark this special day. It is a free and public event, filled with local music as well with French wine and Manitoban cheese. Thanks to the support of La Maison des Artistes Visuels Francophones and of the 100 NONS, we plan on bringing life, culture and amusement in Saint-Boniface. Learn more…
View all our events!