nuit des idées: face au présent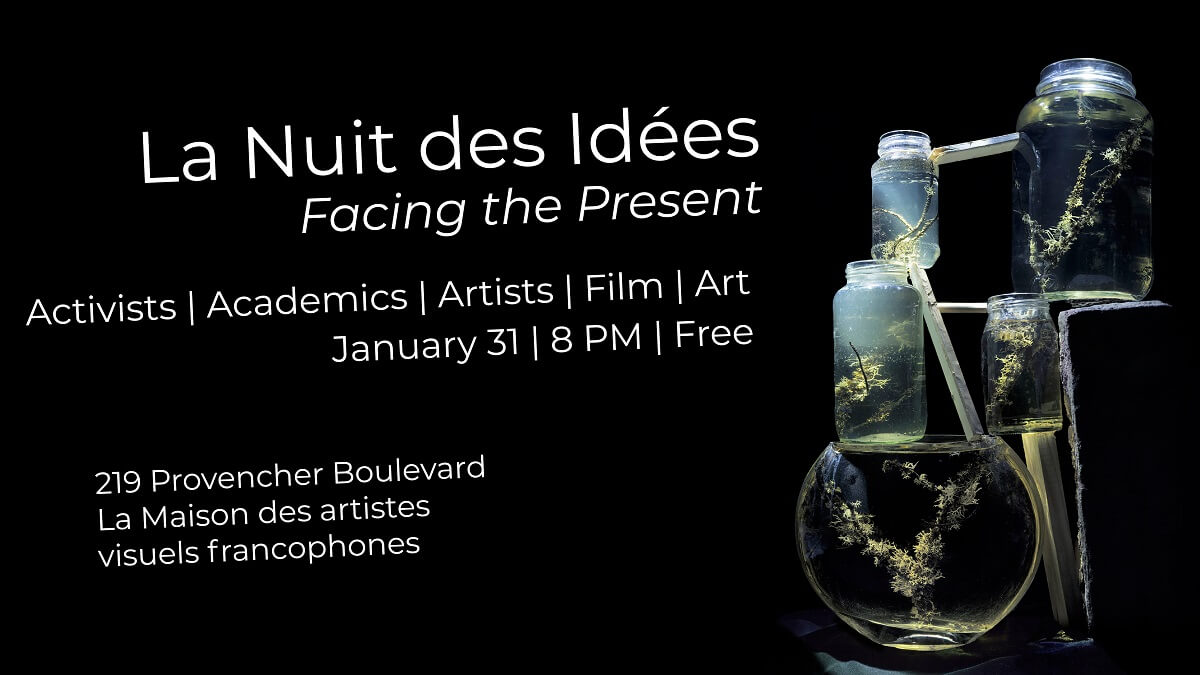 La terre. L'eau. Le changement climatique.

Chaque année, l'Institut français, qui travaille en collaboration avec le réseau des Alliances françaises, organise un événement international, la «Nuit des idées». C'est une fête de la pensée et une occasion de renouveler le débat intellectuel «à la française». C'est une soirée (et quelquefois toute une nuit) pleine d'interventions dynamiques et engageantes qui abordent des problématiques contemporaines d'une manière créative et multidisciplinaire. Cette année, le thème est «Face au présent».

Au Manitoba, au Canada, et dans le monde actuel, on ne peut pas faire "Face au Présent" sans parler du changement climatique et du colonialisme. Venez vous joindre aux militants, artistes, universitaires, et cinéastes pour une exploration multidisciplinaire des perspectives - et des résistances - locales à la détérioration de l'environnement. Échangez des idées parmi des installations artistiques, des projections de films, la musique et le bar.

Intervenants:

Ramona Neckoway- Wa Ni Ska Tan: An Alliance of Hydro Impacted Communities / University College of the North
Laura Cameron- Prairie Climate Centre / The University of Winnipeg
Geraldine McManus- Manitoba Energy Justice Coalition
Janelle Delorme - Coop Vélo-Cité
Étienne-Marie Lassi - French Literature Department / University of Manitoba
Geneviève Pelletier- Théâtre Cercle Molière

Moderation by Arnaud Decroix & Nicole Jowett
Art Installations by Laura St.Pierre & Marc Beaudry
Films by Laura Cameron/ Prairie Climate Centre
Book Fair by Arbeiter Ring Publishing, Red Rising Magazine et Éditions du Blé
Music by DJ Rhayne Vermette and Kurt Tittlemier (The Winnipeg Classical Guitar Society)

Nous remercions France Canada Culture et l'INSTITUT FRANÇAIS. Image de couverture de Laura St. Pierre. Événement gratuit. Présentations en anglais et en français. Accès chaise roulante et toilettes universelles.